Project Description

Guy Denning | Alexis "Bust" Stephens
"Passing through"
From October 22nd, Pretty Portal Gallery will show "Passing Through", an exhibition with works by Guy Denning and Alexis "Bust" Stephens.
Both, Guy Denning and Alexis "Bust" Stephens, place the human figure in the centre of their artistic work. Guy Denning, who was on display at Pretty Portal already several times, meets Alexis "Bust" Stephens in this artist dialogue. Alexis "Bust" Stephens, who former used the psydonym "Bust the Drip", has become the focus of connoisseurs and collectors, especially in Paris.
The artistic approaches of both artists is characterized by a very vivid line. With their painting techniques, they manage to unite diffusion and resolution, as well as detailed representation in one picture in their very own unmistakable way.
Guy Denning, who primarily uses the materials charcoal and chalk, is a master in showing the expressions and emotions of his protagonists precisely and comprehensibly with just a few strokes. Alexis "Bust" Stephens, who prefers acrylics and spray paint, captures the movement of his models. His lines show entire sequences of gestures and poses and seem to dance with the figures on the canvas.
In the exhibition "Passing through" the two artists show protagonists who move through space and time in a special way. Dancers who stage themselves carried by waves and frequencies and angels who step from the hereafter into this world – heavenly figures in transit. Individuals who are exploring their limits, on the path of discovery and in constant change, dealing with ephemerality.
On display are works on paper and canvas. The exhibition can be seen until November 26th.
Alexis "Bust" Stephens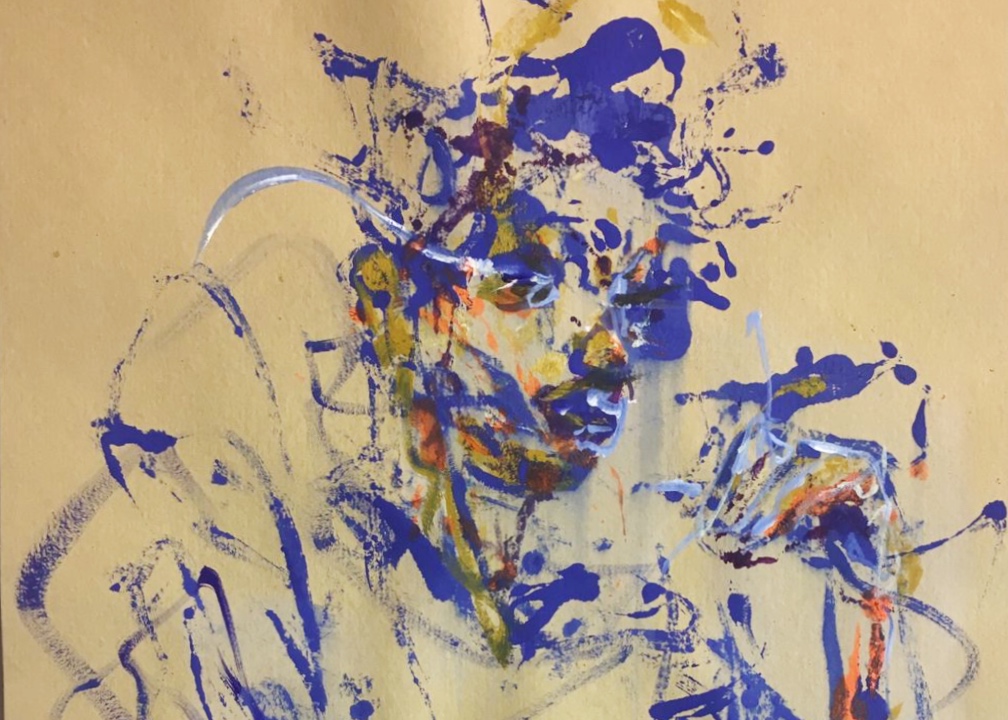 Alexis "Bust" Stephens was born in 1983 in Paris from a French mother and a Jamaican father. Very early he discovered his talent for dancing and painting and started his artistic journey in urban culture. Quite fast he received attention for his hip-hop style dances and was invited to various competition and jams in France, Germany and other European countries, where he performed with various dance groups. He loved to express himself on the streets as the environment that surrounds him, leaving his mark whilst keeping a total liberty of expression. Experimenting with various painting techniques Alexis soon made contact to the huge Parisian streetart and graffiti scene. From start he decided that he wanted to combine dancing and painting in his artistic style, his motifs and his performance. At that time he started to use the alias "Bust the Drip" as a mix from the slang expression "to bust a move", which is used in dancing and his way of painting, where color often dripped on the surface.
He joined the artistic collective Bang Crew, with members coming from a variety of artistic backgrounds: dance, painting, video, photography and music. The synergies in the collective allowed him to develop vast projects both in France and abroad. Here he discovered that he wanted to focus more on painting, while keeping the dance for his performance and motifs.
Alexis "Bust" Stephens artistic idea resolves around his love for movement and gestures. He likes to think of the body as a sum of organized waves. "We are not made up of much and yet we all pulsate and carry an internal boil." Inspired by abstract expressionism and graffiti, he transcendents the movement and energy he feels into his works. Alexis lives and breathes the ideas of "le grande geste" and abstract expressionism. While painting he interconnects technique and instinct. His lively lines originate from waves and frequencies that create a circling link between rhythm and paint. His brush strokes, initiated from gesture and expression, seem to be abstract and jarring at first glance , but forming his dancing protagonists the more his pieces develop and becoming articulated.
Guy Denning
Guy Denning was born in North Somerset in 1965. He has been obsessed with visual art since childhood and started painting in oils at the age of eleven after receiving a set of old paints from a relative that had grown bored with them. Through the 1980s he was repeatedly unsuccessful in his applications to study painting at degree level but continued painting whilst studying art history with the Open University and learning painting technique from older painters he knew in the west of England. From 1992, he exhibited across Britain. Since 2007 he has also exhibited in the United States of America, Germany, Italy and France. His paintings have been shown in numerous solo and mixed exhibitions. His work is held in several public collections, including the Politics Department of Bristol University, the Political Science Department at Galway University and the MAGI'900 Museum of Contemporary Art, Bologna.
Guy Denning's work combines a traditional painterly style with a contemporary, punk-inspired, twist of embedded collaged and stenciled text. This aesthetic, blended with a political narrative, has found Denning a loyal audience in the collectors of urban art.
"Urban art is not a new phenomenon. People have been declaring their presence, their humour, their fears and their anger in the streets for as long as there have been streets for it to be seen in. It's the most democratic form of art; it's a medium that is available to any that feel the need to use it. With the acceptance and celebration of graffiti culture in the twentieth century it has come to a point where it is now sited behind the streets, in fashionable galleries. Yes, fashions change, but don't ever think that the graffiti will fade away. That particular writing has always been on the wall." – Guy Denning
"Passing Through"
Guy Denning | Alexis "Bust "Stephens
22.10.2021 – 26.11.2021
Dienstag – Freitag, 14-19h
Pretty Portal
Brunnenstrasse 12
40223 Düsseldorf