The Band, feat. DXTR The Weird, Max "Mexer" Fiedler, Oliver "Magic" Räke, Roman Klonek und Kj263
Im Mai zeigt Pretty Portal Arbeiten der Künstlergruppe THE BAND. Mitglieder der Gruppe sind DXTR The Weird, Max "Mexer" Fiedler, Oliver "Magic" Räke, Roman Klonek und Kj263, die letztes Jahr während des 40° Urban Art Festival in Düsseldorf den Remix des Stadterhebungsmonuments von Bert Gerresheim auf die Suitbertusstrasse gezaubert haben.

THE BAND
EINE AUSSTELLUNG VON
DXTR THE WEIRD
MAX "MEXER" FIEDLER
OLIVER "MAGIC" RÄKE
ROMAN KLONEK
KJ263
Vernissage 16. Mai 2014
19 – 22h
Ausstellung
16. Mai – 20. Juni
Oliver Räke aka Magic.one
ist Künstler und freiberuflicher Grafikdesigner. Er ist seit den frühen 1980er Jahren als"Urban Artist" aktiv. Oliver Räke war unter den ersten Graffiti-Writern, die erweiterte Post-Graffiti- Methoden nutzten, also die avantgardistischen Vorläufer dessen, was heute als "Street-Art" populär ist. Im Unterschied zu den vielen, inzwischen in die Öffentlichkeit drängende Plagiateuren tat er dies auf überraschende, intelligente und vor allem unprätentiöse Weise. Stilistisch schlagen in ihm vier Herzen, das des Künstlers und Grafikers der alles überflüssige weglassen möchte und das des Illustrators und Urban Artist der die auschweifende Geste und das Ornamentale liebt.
Roman Klonek
ist freiberuflicher Illustrator und Druckgrafiker, er zählt zu den international bekannten Vertretern der zeitgenössischen Druckgrafik in Deutschland.
2001 bis 2008 war Klonek Mitorganisator der Düsseldorfer"Galerie Revolver". Er gibt regelmäßig Holzschnitt-Workhops an Grafikhochschulen und war mehrmals Teilnehmer beim Festival für Charakterdesign"Pictoplasma". Er hat eine Gastprofessur an der Volkwang Universität der Künste in Essen. Roman Klonek lebt und arbeitet in Düsseldorf.
Max Fiedler aka Mexer
ist freiberuflicher Illustrator, Comiczeichner und Gamedesigner. Erzeichnetsehrvielundsehrgernundsitztleidervielzuoft amComputer.
Von 2005-2013 hatte er einen Lehrauftrag an der Fachhochschule Düsseldorf im Bereich interaktive Systeme/ Gamedesign.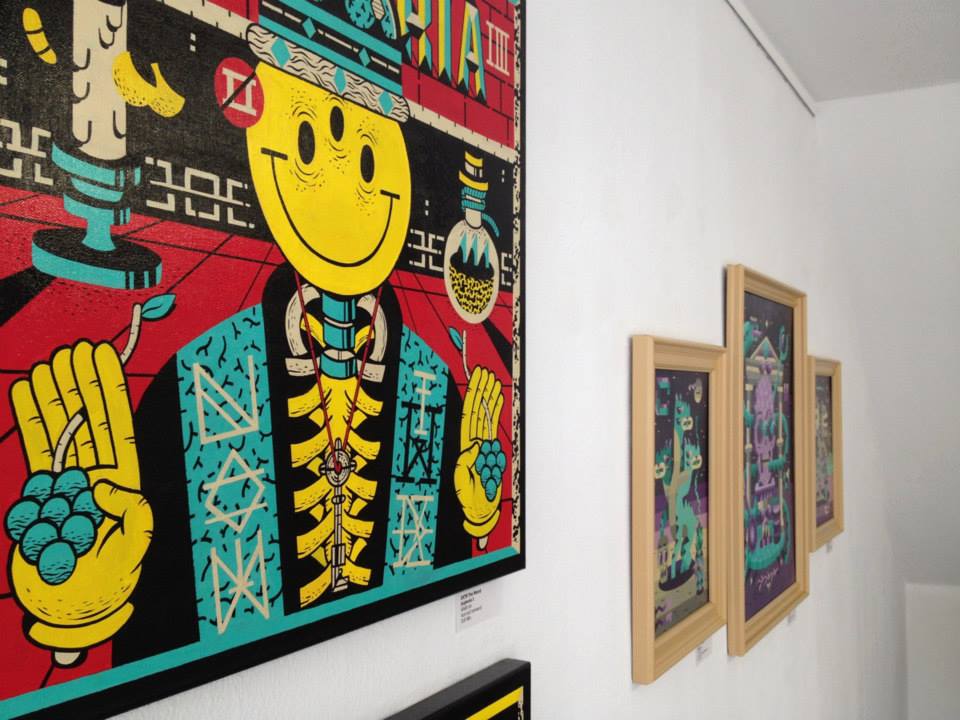 Denis Schuster aka DXTR
lebt und arbeitet als freiberuflicher Illustrator und Künstler in der Nordrhein Westfälischen Landeshauptstadt Düsseldorf.
DXTRs gestalterisches Hauptaugenmerk gilt momentan großflächigen Wandmalereien und spontanen Kollaborationen mit befreundeten Künstlern. Ende 2011 gründete er das Künstlerkollektiv "The Weird". Die Gruppe versucht unterschiedliche Einflüsse und Interessen wie Malerei, Installation, Muralism, Urban Art, Character Design und Illustration zu mischen und ist mittlerweile bekannt für seine Arbeit und Wandproduktionen im In- und Ausland. Sein Stil kommt aus dem Graffiti, auch wenn die Beschreibung heute nicht mehr passt. Die Bildinhalte und Themen sind figurativ, oft auf den ersten Blick verspielt und verträumt, aber auch mit einem Schuß Mystik, Ironie und Provokation versehen.
KJ263
groß geworden in der Düsseldorfer Szene macht der Graffiti Künstler und freiberufliche Grafikdesigner Kj263 mittlerweile auch international von sich Reden.
Der gebürtige Russe überzeugt immer wieder mit seinen spielerischen Kreationen—eine faszinierende bis ironisch-witzige Mischung aus Alltags-Wahrnehmungen und fiktiven Spielereien dargestellt in surrealistisch anmutenden Motiven voller Charakter und Charme.