David Stegmann « Station to Station »
Vom 31. Oktober bis 28. November 2014 zeigt Pretty Portal Werke des Schweizer-Deutschen Künstlers David Stegmann alias dust (*1982, Freiburg). In der Ausstellung "STATION TO STATION" präsentiert David Stegmann neue Arbeiten auf Glas sowie Werke auf Leinen und Papier. Die Vernissage findet am 31. Oktober 2014 um 19 Uhr statt.
Der Künstler wird anwesend sein.
Bei Interesse senden wir Ihnen gerne den Katalog der Ausstellung als PDF zu.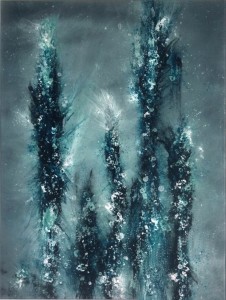 David Stegmann befasst sich in seinem Schaffen mit Fragen der Koexistenz von Mensch und Umwelt. Seine Arbeiten, die abstrakte Malerei und Neo-Surrealimus spannend kombinieren wirken zum Teil apokalyptisch und visionär. Sie gewähren einen Einblick in einen fragilen, organischen Mikrokosmos. Hier fließt Konkretes und Phantastisches vor den Auge des Betrachters zusammen, um sich im nächsten Moment wieder aufzulösen. Die Natur, mit ihrem absoluten Drang zur Perfektion in Farbe, Form und Bestand, ist dabei Quelle für seine Inspiration.
David Stegmann hat sein Werk konsequent weiterentwickelt. Nach Shows in 2008 und 2009 freuen wir uns seine aktuellen Arbeiten in der Galerie Pretty Portal zu zeigen.
DAVID STEGMANN
STATION TO STATION
31.10.-28.11.2014
Vernissage
31.10. / 19-22h
Öffnungszeiten
MO-MI 11-19h
DO-FR 11-17h