Guy Denning "Shooting angels"
Am 17. April eröffnen wir die Ausstellung "Shooting Angels" von Guy Denning.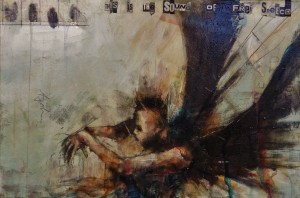 "Urban Art ist kein neues Phänomen. Menschen haben ihre Anwesenheit, ihren Humor, ihre Ängste und Ärger in den Straßen kundgetan, seitdem es Straßen gibt, in denen sie auch gesehen werden können. Es ist die demokratischste Form der Kunst. Es ist ein Medium, das für jeden zugänglich ist, der das Bedürfnis verspürt sich dessen zu bedienen. Mit der Anerkennung und der Graffiti Kultur im 20. Jahrhundert verlagerte sich der Schauplatz aus den Straßen in moderne Galerien. Ja, Mode ändert sich, aber denke bloß nicht, dass Graffiti verschwinden wird. Diese besondere Schrift war schon immer auf der Wand." (Guy Denning")
Guy Dennings Werke kombinieren eine traditionelle Malweise mit einem zeitgenössischen, vom Punk inspirierten, als Collage eingefügten und schablonierten Text. Seine Bildsprache und Ästhetik, vermischt mit der politischen Erzählung, die sich durch sein Werk zieht, beschaffte Denning ein loyales Publikum unter Kunstsammlern und Urban Art Liebhabern.
Guy Denning wurde 1965 in North Somerset geboren. Bereits in seiner Kindheit war er von bildender Kunst besessen und malte mit elf Jahren seine ersten Ölbilder, inspiriert von alten, verstaubten Gemälden, die ihm ein Verwandter schenkte. In den 1980er Jahren stieß er bei seinen Bewerbungen für ein Studium der freien Künste auf Ablehnung, was ihn nicht von seiner Leidenschaft abbrachte. Er studierte Kunstgeschichte, setzte seine Malerei fort und lernte Maltechniken von verschiedenen älteren Künstler aus dem Westen Englands. 1992 stellte er in ganz Großbritannien aus. 2007 folgten Ausstellungen in der USA, Deutschland, Italien und Frankreich. Seine Werke wurden in zahlreichen Einzel- und Sammelausstellungen gezeigt und sind Bestandteil verschiedener öffentlicher Sammlungen, u.a. der Politik Fakultät der Bristol University, der Politikwissenschaftlichen Fakultät der Galway University und dem MAGI'900 Museum of Contemporary Art, Bologna.
Vernissage 17.4. 19hh
Ausstellung 20.4. – 22.5.
Bitte senden Sie eine Email and info@prettyportal.de wenn Sie den Preview der Ausstellung als PDF erhalten möchten.